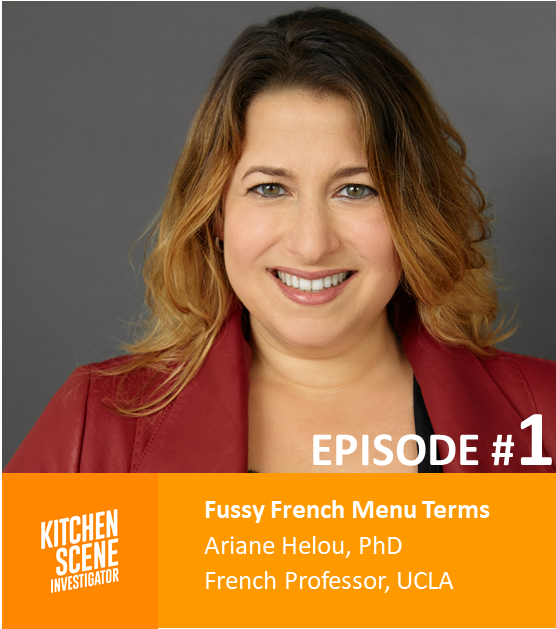 Nickie and Dr. Ariane Helou, PhD and French professor at UCLA, break down fussy French terms popping up on menus all around America so you can approach menus with more confidence. It's an informative and humorous exploration of the French terms gracing 5-star restaurants to local eateries. Nickie and Ariane tackle amuse bouche, charcuterie, confit, foi gras, crème anglaise, escargot and soo much more. So, saddle up to this informative and at times comedic conversation. Please enjoy and happy ordering :-)
PLEASE SUPPORT + DONATE TO THE PODCAST:
PAYPAL - @KitchenSceneInvstgtr
VENMO - @Nickie_Jurado
ABOUT DR. ARIANE HELOU, PHD:   Dr. Ariane Helou taught at UCLA in the Department of French & Francophone Studies. Her research focuses on drama, music, and poetry in early modern Italy, England, and France; her secondary research field is culinary history. Dr. Helou previously taught at UC Santa Cruz, where she earned her PhD in Literature and subsequently taught in Theater Arts, Classical Studies, and French.
Ariane is also a translator; a dramaturg; and a performing artist whose background spans early music, theater, and opera, currently singing with Artes Vocales. Dr. Helou has been a company member of the Santa Cruz Shakespeare festival since 2012, and is also a member of the Los Angeles-based theater company Collaborative Artists Bloc.
CONTACT & SOCIAL:
WEBSITE:  https://arianehelou.com/about/
INSTAGRAM: https://www.instagram.com/dr_helou/
VISIT PODCAST WEBSITE FOR MORE SHOWS: 
www.KitchenSceneInvestigator.com