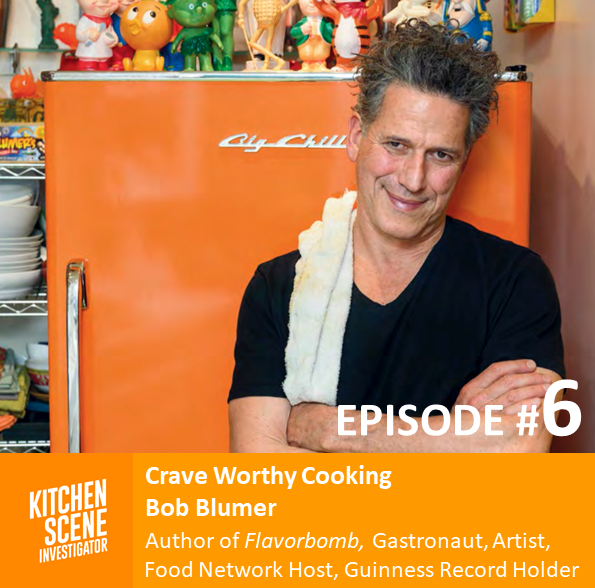 Bob Blumer, author of the new cookbook Flavorbomb: A Rogue Guide to Making Everything Taste Better (Appetite/Penguin Random House), decodes how chefs coax big flavors through ingredients, gear, and techniques to achieve crave-worthy cooking. We are all overwhelmed and exhausted in our Covid kitchens. Grab your pen and get ready to be inspired!! Delicious is a victory. Go get yours!
PLEASE SUPPORT + DONATE TO THE PODCAST:
PAYPAL - @KitchenSceneInvstgtr
VENMO - @Nickie_Jurado
SHOW NOTES - Ep. #6 Crave Worthy Cooking with Bob Blumer link
ABOUT BOB - Bob Blumer is the Host of Food Network's Surreal Gourmet and Glutton for Punishment. He has written six cookbooks and broken eight food-related Guinness World Records. He is a professional gastronaut, artist, and ambassador for Second Harvest in Toronto; personally raising over $250K to alleviate hunger for the perishable food bank. In his books and appearances around the globe, Bob transforms ordinary ingredients into wow-inspiring dishes through simple cooking methods and whimsical presentations that have become his culinary trademark.
LINKS TO BUY BOOK:
In USA – Amazon.com, Barnes and Noble, Books a Million 
In Canada - Indigo.
VISIT PODCAST WEBSITE FOR MORE SHOWS: 
www.KitchenSceneInvestigator.com